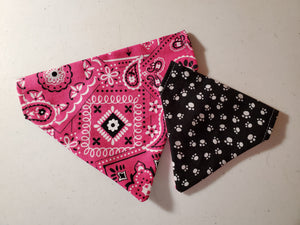 Bandana Print Dark Pink - Bandana
Collar fits through bandana to stay on securely. Great for dogs, cats or any animal that can wear a collar. Each bandana is reversible with both sides showing in picture.
X-Smalls are great for kittens, cats and toy breeds.
Smalls are great for small breeds like chihuahuas, jack russels, dachshunds, etc.
Mediums are great for medium dogs like beagles, basset hounds, miniature collies, cocker spaniels, etc.
Larges are great for large dogs like pitbulls, great danes, labradors, boxers, etc.
---
We Also Recommend
---